Between chemistry and business: Chem 60 alumnus Stephen T. Chen's speech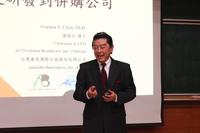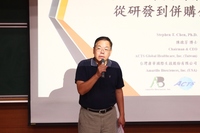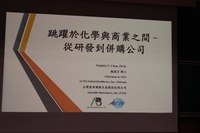 In order to deepen the bond between students and alumni of NCKU, to make education and companies integrate, the NCKU Tien Ming Peng Foundation (田明朋學術研究基金會) organized series of speeches, inviting Chem alumni to share their precious life experiences. Mr. Stephen T. Chen (陳德芳), former student of Chem 60, now the president of ACTS Global Healthcare, Inc (台灣康華國際生技), was the invited speaker of the "Jump between chemistry and business – From R&D to M&A", in which Chen shares his working experiences and business philosophy to teachers and students.

When the director of NCKU Alumni Association Center, Mr. Shaw Shyh-Yu, made the introduction, he stated that Chen mainly engages in Pharmaceutical management, quite rare for a Chem graduate student to do as a career, it is an honor to invite him to share experiences, which would bring new perspectives and views to students.

In the beginning, Chen briefly talked about his school life. He first aimed for politics and architecture, but in 1967, he entered NCKU as a student of Hydraulic and Ocean Engineering, it was until a year after that he decided to transfer to Chemistry. Chen also indicated that Prof. Lin Ji Xiong (林繼雄教授), who teaches physical chemistry at the time, inspired him the most. Prof. Lin's serious and rigorous attitude and teaching method made Chen decide to be fully devoted to chemistry.

After graduating in 1971, Chen went to Purdue for chemistry PhD, with research direction related to NASA's space science, like the moon rock brought back by The Apollo Mission, was one of his scope of study. However, a chance encounter changed his life.

"I accidentally spot the name tag in front of a laboratory; it was a professor that I've known since living in Tunghai University." Chen saw the name and pay a visit, discovering that this young professor is the son of the professor that he knew. After several conversations, the professor recommended Chen to transfer into Pharmacy.

After twists and turns, Chen successfully transferred into Pharmacy with liposome as his scope of study. Right after graduating with PhD, he started working in the field; he worked in four international pharmaceutical factories: Burroughs Wellcome, Miles Pharmaceuticals, ICI America and Ciba-Geigy. Besides from brief working experiences on all four factories, he also introduced the factories, after M&A, is now known as GSK, Bayer, Astrazeneca and Novartis.

Chen became the coordinator and consultant for Amarillo Biosciences, Inc. (ABI) in 1996, and helped ABI and two Taiwan's companies make technology transfer in 2006, they planned on working together in developing Asia market, and successfully became a listed company at stock exchange market. Unfortunately, ABI faced financial crisis in 2012, Chen stepped out and became the CEO in order to get the company back on track. In 2014, he flourishingly re-organized ABI, controlled 80% of its stock, and established ACTS (台灣康華國際生技公司) in Taiwan as the company's Asia headquarter, hoping that ACTS/ABI can integrate China, Taiwan, USA, expanding Asia's biotechnology market.

"In every stage of life, not only we need to find someone to learn from, but also know who we shouldn't learn from." Looking back at his experiences, Chen shares his own point of view, stating that no matter in what stage or position in life, there is no absolute right or wrong, the real definition of success can be explained differently. Every chance encounter is a challenge, "Now I look back, I realize that after all, integrity is what matters the most."

Chen's speech received a hearty round of applause, students even stayed to exchange thoughts and ideas with him. After the speech, the Tien Ming Peng Foundation arranged a luncheon for all, ending the event on a good note.